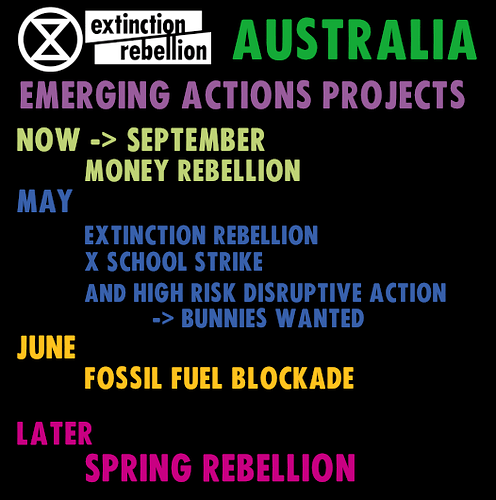 These actions are being collaborated on together across the country.
Many of these actions would benefit from new groups or rebels joining in: please sign up or think about how you can make them more powerful!
Note: These projects or campaigns in progress or development. Some may be redesigned, postponed, or cancelled.
NAB is one of the worst of the big four Australian banks with regards to its investment in fossil fuels. This campaign is designed for decentralised and escalating actions to pressure NAB into exiting from fossil fuels. NAB releases their new oil and gas policy in September.
The campaign is designed for collaboration across movements.
To Join:
May: Extinction Rebellion X School Strike 4 Climate
The next School Strike 4 Climate is on May 21st. There are rebels in Sydney and Perth (probably elsewhere too) collaborating with members of SS4C to organise some future actions together. Rebels are also supporting the school strikers directly by volunteering as marshalls for the strikes, and showing up to the strikes on the day.
To Join:
Contact the XR WA or XR Sydney actions working groups.
Volunteer as a marshall by finding your local strike through the website or through social media.
Organise with other rebels in your city to support the strikes.
May: Very Naughty Targeted Political Disruption
Location: Southeast Australia
A crew of rebels is getting together for some targeted, high-stakes disruption in small affinity groups to influence the national discourse in early May. I cannot tell you everything about it right now - more info to come.
Bunnies are wanted.
Bunnies who are willing to risk prison time are especially wanted
Non-arrestable support crew also wanted!
To Join:
June: Decentralized Fossil Fuel Infrastructure Blockade
Affinity groups in each capital city in Australia (not Canberra) are building a plan to carry out simultaneous blockades on fossil fuel infrastructure.
This will be a single-day action using well-known disruptive action designs.
The plan at the moment is to go public with the action well in advance, to hype and build it into a highly sensationalised and disruptive action.
More information to come soon!
To join:
Get together with an affinity group to start organising your local blockades.
Join a zoom call this Tuesday, 27th of April at 6:30pm AEST to find out details about the action and discuss.
For zoom details, private message me here or email me at manicmax@protonmail.com
More info to come, watch this space.
Later: Spring Rebellion
There is definitely energy around the movement to organise another big week of rebellion later in the year.
To join:
There's nothing to join at this time but talk to your groups about what you want to do, what's strategic, and what steps you might make towards this goal.
---
Got an action you want to share? Any changes, edits, updates required? Any questions?
Just post below! Or if you need privacy, send me a private message!